Online  HAC Software for ATEX and DSEAR Regulations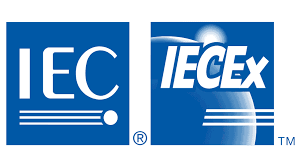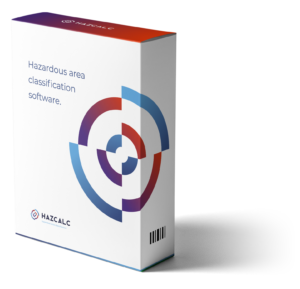 What is Hazcalc?
Hazcalc is an online software tool for IEC, ATEX and DSEAR Hazardous Area Classification (HAC) for flammable liquids and gases. It is an intuitive tool which is fully complies to the current IEC standard 60079-10-1.
The time-saving and intuïtive Hazcalc software provides:
Selection of flammable substances with the relevant explosion parameters, from the incorporated substance database
Calculations of the release rates from gases, liquified gases, evaporative pool releases and filing of tanks, drums and IBC's
Performs ventilation assessments for enclosed area's and open air situations
Automated determination of the area zone classification
Calculation of the extent of the classified area
Incorporated help- and guidance function within every selection and text field within the assessment
Easy duplicating and editing of assessments
Automated pdf report generation of single and multiple selected assessments
Export function of assessment data to MS Excel spreadsheet from selected assessments
Free Word Report generator with drag and drop standard building blocks.
All methods for hazardous area classification have one thing in common: the process of HAC can be a very time consuming process of calculating and adjusting parameters. With Hazcalc, an assessment can be done within minutes! Editing parameters is very easy and the effects of changing these parameters is directly vissible, so that there is enough room for expert judgement.
Hazcalc is an online platform / tool for hazardous area classification of flammable liquids and gases (e.g. hydrogen, methane etc.) completely according to the current International Standard IEC 60079-10-1 version 2020. Also the older standard from 2015 is still available within the tool.
Take a closer look at the possibilities on Our Software page or start a free tour.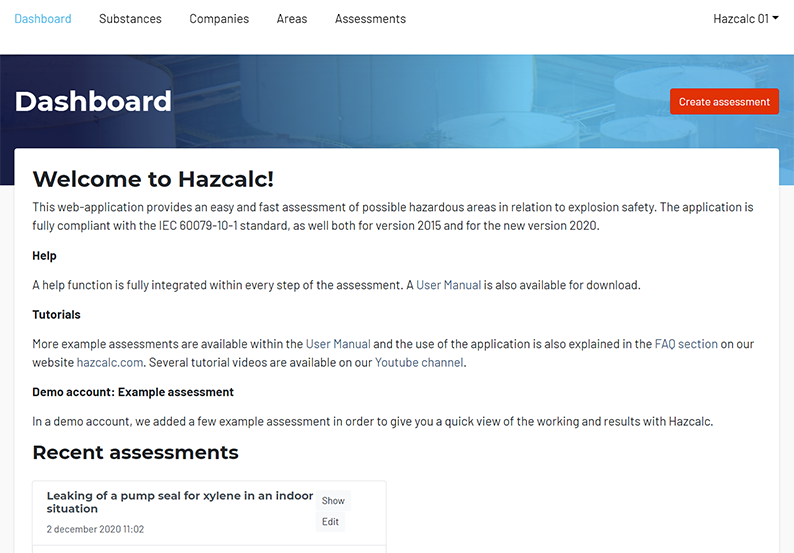 Easy in use and realistic results
Hazardous Area Classification normally costs a lot of time and effort. Hazcalc is an easy to use tool wich saves and enormous ammount of time and effort. Beside that, the results of the hazardous area classification assessment, with this tool leads, to more realistic hazardous zones with more realistic area dimensions. Over-conservative areas and area dimensions that are common, when using other methods (e.g. example approach-methods), are prevented when using Hazcalc. Therefor Hazcalc helps saving capital and prevents the use of unneeded Ex electrical equipment and non-electrical Ex equipment in places were it actually is not needed.
An extensive help function and user manual is available and users are automatically guided through the process of ATEX and DSEAR hazardous area classification. A chemical substances database is incorporated and ventilation assessments are done automatically. Assessments of several release scenarios can be made and the results are stored online. A report function is available and the results, including an image, graphs and when applicable, company logo, can be printed. All assessment details and results can be exported to MS Word, MS Excel format and PDF.
A Word Report builder is available, for composing automated Word report.  Word reports can be build by using default templates and template buiding blocks, which result in automated Word reports.

Automated Reports and Export all data to MS Word, MS Excel and PDF, including Report Generator!
The software is already been used by a large ammount of professionals. An overview of their functions:
Process engineers
Project engineers
Renewable energy engineers
I&E engineers
HSE/ATEX-consultants
HSE- managers
ATEX-inspectors.
The key benefits of the tool are:
time-saving due to incorporated substance database, automated calculations and graph drawings;
time-saving e.g. due to easy copy, duplicating and editing function of assessments;
reduction of faults in calculations;
professional report function with own company logo;
export function of selected assessments to MS Word, MS Excel and PDF format
extensive knowledge of the IEC standard not necessary: guidance and help function is incorporated within Hazcalc;
reduction of the size of hazardous areas due to the calculation of evaporation in dedicated and customized scenario's;
prevention of unnecessary Ex equipment due to realistic hazardous areas compared to other standards.
We provide Hazcalc with multiple affordable subscriptions, suitable for your own needs.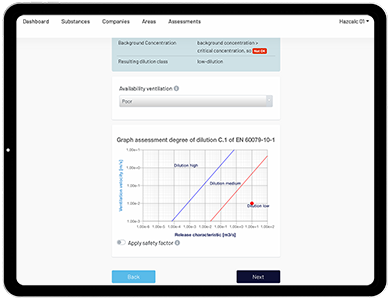 Developed by professional HAC assessors
Hazcalc is developed by experienced hazardous area assessors which have a proven history of complex HAC studies and are all IECEx certified professionals. Quite often these assessors are consulted for a second opinion on hazardous area zone reduction. Hazcalc is used for these studies.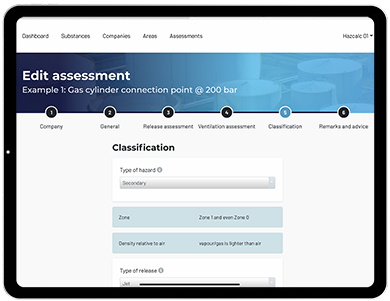 Hazcalc is extremely usefull when composing an explosion protection document. The hazardous area's can be assessed easily, fast and well documentated. Hazcalc calculations, reports, graphs and other data can be easily imported is Word documents and/or Excel sheets.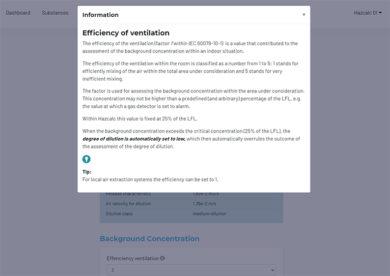 Due to the easy en fast way of making assessments and automated calculation functions for several types of releases, an assessment can be done within minutes. In every step of the process a pop-up help function is available, to guide the assessor through the process. The results are automatically displayed in the appropriate graphs immediatelly. Together with several report functions, such as printingf single assessments and exporting multiple assessments to a local MS Excel file, professional and reliable assessments can be delivered easily.


All results from all assessments can be exported with just one click to a PDF or MS Excel file. These results can be easily arranged with our separate importmodule to your own desired format so that the assessment results can be easily incorporated in reports.
Beside that a MS Word generator is available. Based on drag and drop template building blocks, reports can be easily generated and exported to a local computer. Take a closer look here.